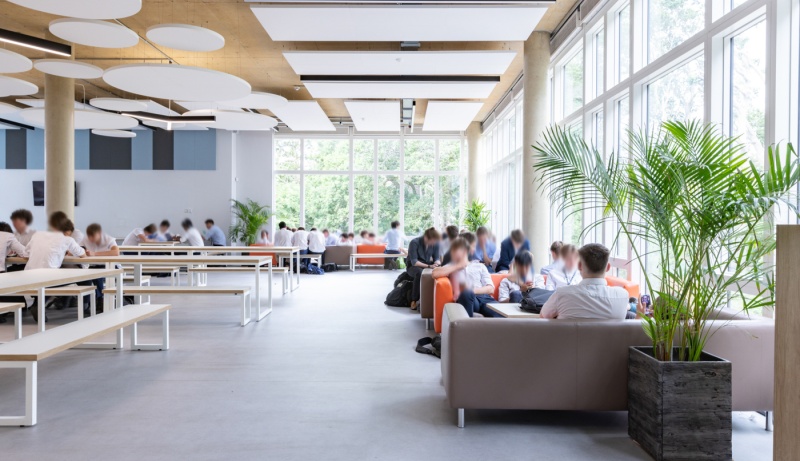 Bournemouth School - New Dining and 6th Form Facilities
Project details
Client:

Bournemouth School

Location:

Bournemouth

Role:

Full Team delivery comprising: Lead Consultant, Architect, Building Surveyor, CA/PM, Quantity Surveyor, Principal Designer, Interior Designer, Bid Management, Masterplanning Services and other specialist services
Our 1 Team solution provided an extensive range of services that supported the school with the ultimate construction of this highly-regarded state-of-the-art and sustainable facility alongside other essential works. 
Initially, we developed a masterplan strategy by undertaking a detailed Schedule of Accommodation and Long Term Maintenance assessment combining the expertise of our Architects, Building Surveyors and M&E Consultants. This information formulated the basis of the 10-year Strategic Estate Delivery Plan, identifying the essential development and maintenance priorities. 
Our bespoke Bid Management Team subsequently prepared a tailored plan to support an application for the ESFA's Selective School's Expansion Fund (SEEF) to address underlying maintenance needs and provide new facilities. Alongside the strategic information previously developed, we drew on the expertise of our specialists to provide further substantiation, such as fire safety and other compliance matters. 
The approval of the bid demonstrates the array of expert advice provided in-house, ensuring a well-managed and fully co-ordinated process that achieves a high rate of return. 
Following funding approval, we provided an extensive interdisciplinary team, including specialist surveys and consultancy advice to deliver this imposing facility comprising Dining, Kitchen, General Teaching and Sixth Form Centre. Our Architectural Team navigated a complex planning process compounded by Covid disruption and challenges due to the site's local listing, ecology and arboricultural features. After initial resistance, we developed strong arguments that swayed the decision resulting in a resounding approval. 
Arranged over three floors, the building consists of a concrete frame with a semi-basement overlooking a protected copse. Construction was logistically challenging; the building located within a courtyard close to other facilities on a congested urban site. We worked closely with all stakeholders to develop creative solutions that ensured a balance between build-ability, noise, disruption, and vibration, ensuring the school operation could continue with minimal impact over an 18-month build period. The facility was officially opened by leading bassist Alex James from supergroup Blur - a former school pupil. 
During this project, our Bid Management services successfully secured funding via the ESFA's Condition Improvement Fund for four essential maintenance and safeguarding projects addressing leaking roofs, aged and inefficient glazing and heating installations. The breadth of KK's 1Team services provided continuity for the Academy managing the entire process from bid to completion on-site. 
We are proud to have supported the school over the past five years in delivering its estate strategy and improving its facilities to heighten its educational offer and improve the student experience. 
Contact our Education Team for assistance with the Condition Improvement Fund (CIF) or your wider project requirements.