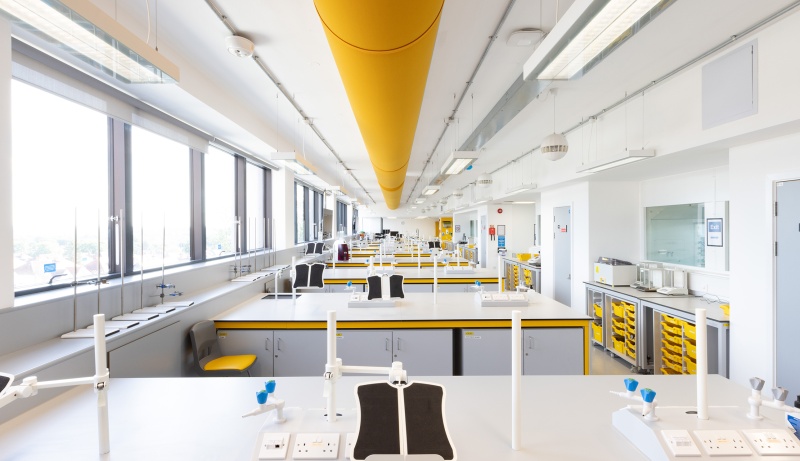 University of Southampton - Refurbishment of Chemistry
Project details
Client:

University of Southampton

Location:

Southampton

Role:

Architect, Principal Designer, Building Surveyor
We have a long-standing track-record advising and providing creative design solutions in complex laboratory facilities in Higher Education and Research environments. Our appointment by the University of Southampton as Lead Architect, Principal Designer, CDM-Advisor and Building Surveyor created a unique 1 Team design solution tailored for this extensive retrofit solution.

The School of Chemistry is located in the heart of the Highfield Road campus in an iconic modernist building originally designed by Sir Basil Spence. The refurbished facilities were located on the 5th, 6th and 7th floors and works were carried out whilst the rest of the building remained in occupation. Our scope also extended to co-ordinating the internal and external interfaces with a separate recladding project where we also had oversight in a CDM-Advisory capacity.
The flexibility of our team to provide a blend of design and technical skillsets to suit the demands of the project ensured the design met aspirations and budgets could be well aligned to needs an at early stage.
The fully refurbished facilities provide accommodation for up to 120 students over two levels and have greatly improved the outdated facilities improving student experience, upheld by the 2023 Guardian University Guide as no.1 in the UK for course, student and teaching satisfaction.
The facilities were equipped with many fume cupboards and their energy-in-use has been dramatically reduced by wind-responsive flue systems attached to the building. Alongside re-enveloping, the building has a significantly reduced carbon footprint, contributing towards the establishment's drive towards a Net Zero future.
Our involvement extended to refurbishing stair towers, WC upgrades and creating a landscaped courtyard for student use.
Following the success of this project, we were appointed to provide our design team services for the fit-out of a new Chemical Engineering Department.
Contact our Education Team to learn about our laboratory expertise.