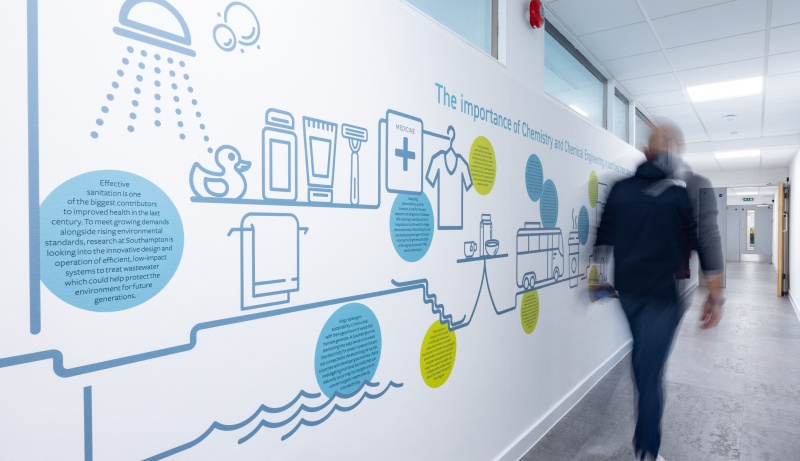 University of Southampton - New Chemical Engineering Department
Project details
Client:

University of Southampton

Location:

Southampton

Role:

Architecture, Principal Designer
The University were seeking to establish a viable space to create a new Chemical Engineering department to host a newly established Chemical Engineering course.
Our designs comprised a large open plan 42 person teaching laboratory, prep room, locker facilities, a virtual control room, a 30 person computing suite, bookable meeting rooms and break out areas adjacent the laboratory. The control room provides the unique ability to create a realistic industry experience for students; allowing remote control of equipment in a control room setting equipped with walkie talkies and phones. Reflecting of a more real-world situation, it gives students the safety to practice industry processes and manage accidents through simulation.
The project extended beyond internal refurbishment, taking the opportunity to replace windows, roof coverings and install security measures. Our joined-up approach ideally placed us to accommodate the varied nature of the project. From maintenance to specialist laboratory facilities, our 1 Team approach – grounded on matching the right skillsets to the right job, allowed our Architects to be supported by our Building Surveyors for some of the additional maintenance items i.e reroofing, security measures etc. Providing a seamless team delivery.
The state-of-the-art facilities have provided a safe space for students to discover how chemical engineering can change the world. The finished space has provided a fresh and dynamic identity to the new department, promoting collaboration on all levels, and attracting the future contingent of Chemical Engineers to the field.
Contact our Education Team to understand how we could help your Science, Technology, Engineering and Maths (STEM) projects.