A year in the life of a KK graduate
At KK we value our mentorship and helping our people to develop and exceed their personal expectations, starting with our graduates.
We're shining the light on one of our newest surveyors. Sam Bedford joined our team as a graduate building surveyor last year, and he has gone beyond within KK, where his enthusiasm has helped him to progress and become a valued part of the company. Sam has given some insight into his experience of what his first year at KK has looked like and what the future holds.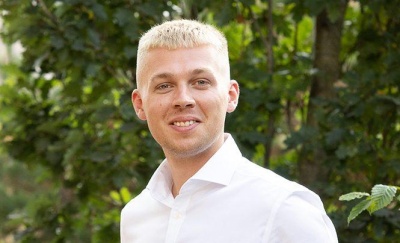 What made you choose your career?
I started my career in building surveying to make a positive contribution to the construction industry. At University I was drawn to the variation involved in the role and the idea of having a mixture of office based and on-site work. This is a great perk of the job and I like how no 2 weeks are the same!
Why Kendall Kingscott?
A key point that stands out at Kendall Kingscott is the employee retention from graduate level. This is important to someone who aspires to progress within a company, and I have felt valued from day one.
After a year at KK, how have you found your role developing?
It has developed in many ways but mostly through shadowing my mentor, undertaking site surveys, writing tender reports and carrying out contract admin.
I have also progressed to managing my own projects under supervision.
Has the job met your expectations?
Working for Kendall Kingscott has exceeded my expectations and what I thought I could achieve in my first year after University.
What are the top three things you like about working at KK?
The support: people are enthusiastic to help me learn and progress to achieve chartership.
The people: everyone is so friendly!
The office: it is modern, comfortable and I like the open plan, which makes it easy to collaborate with others.
What have you been specifically involved with?
I have been involved in various projects at the University of Southampton, including a roof refurbishment to the Highfield campus library. I have also been involved with several Condition Improvement Fund (CIF) projects for different public schools, this included re-roofing and heating replacements.
How have you found the mentoring/training and how has this benefitted your development?
The mentoring I have received has been well managed, enjoyable and has pushed me to be the best I can possibly be. From the very start my mentor has always made me feel an integral part of the project team.
Our Modern Way Strategy is progressing and lots of exciting things are happening. How will this strategy set us apart from others?
The academy will allow apprentices, graduates and developing employees to collaborate with each other through knowledge shares.
What advice would you give to people thinking about a career in Building Surveying?
If you can problem solve, multitask and communicate effectively then building surveying will come naturally!
What about the future, where do you see things going from here?
I have recently enrolled onto the RICS APC pathway, and I am working towards achieving chartership status.
Related news