Celebrating National Apprenticeship Week
We offered our first apprenticeship almost 20 years ago. Since then, the number of apprentices graduating through our training academy has reached double figures. Apprenticeships offer a unique balance of practical experience alongside off the job training. To celebrate National Apprenticeship Week, we're giving the spotlight to one of our success stories.
A shining example of where an apprenticeship could take you, Ollie has passed through every stage of the KK academy. Most recently achieving his MRICS Chartered professional qualification as a fully fledged Chartered Building Surveyor. But you don't need to take our word for it, hear it from Ollie himself.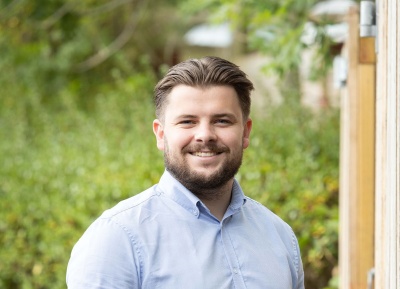 What made you choose your career?
A particular interest of mine growing up was design and construction and therefore building surveying seemed like an obvious route for me to pursue as it ticked both boxes.
Why Kendall Kingscott?

Kendall Kingscott offered me the opportunity of work experience when I was 15, at which point I was exploring potential apprenticeships and careers. At the end of the second work experience period, I was offered an apprenticeship for when I finished school, providing I achieved the required grades in my GCSEs, which I did, and this kickstarted my career at Kendall Kingscott.

What does your role typically involve?
My role begins at the feasibility stage of projects, where clients' requirements are established and understood, and these requirements are then taken forward through to a fully designed project that meets these requirements within the available budget. This is followed all the way through the construction period through to the end use for the client.

What do you enjoy most?
I enjoy the variety of work that I undertake the most. My job allows me to interact with different clients, who have different requirements and ways of working. This means that each project is different. One of the most enjoyable parts of my job is getting to see the time and effort spent in the early stages of a project evolve in to a physical thing on site.

What does gaining a professional qualification entail? 
My journey started when I was 16 and had just finished my GCSEs. I enrolled on to the apprenticeship and this involved me going to college 1 day a week to complete my BTEC Level 3 as well as my NVQ in Construction and the Built Environment. After completing the 2-year BTEC course I enrolled on to a 2-year level 4 HNC in Construction and the Build Environment, which was also a day release apprenticeship. Upon completion of the HNC I enrolled on to a Building Surveying degree at University College of Estates Management (UCEM). This was a 4.5 year degree apprenticeship, which was also undertaken on a day release programme. As I undertook a level 4 HNC this meant I could complete the degree in 3.5 years as opposed to 4.5 years, and I finished this with a full degree in Building Surveying. During my final 2 years of university, I was enrolled onto the RICS APC route, which allowed me to undertake my APC as soon as university was complete. After one year I sat my APC assessment and qualified as a Chartered Building Surveyor

What keeps you busy outside of work?
Outside of work my 2 favourite hobbies are golf and football. I like to challenge myself and be as good as I can possibly be at the things which take my interest, so I am currently working hard at improving my golf game. 
Related news