We like to think the opportunities to grow and develop are limitless. Sometimes that can mean forging new roles to optimise our people's skillsets and interests. We're always open to exploring opportunities within the context of our wider business. But you don't need to take our word for it. We're shining the light on our people. So you can hear directly from them what it's like to define your own path with the support of KK.
Originally joining KK as a Building Surveyor, Alex provides insight into how his role has evolved into Architecture.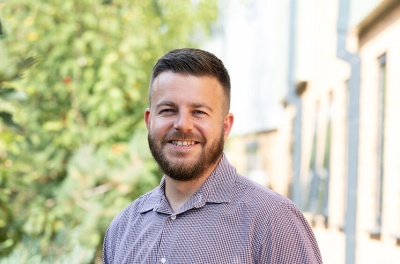 Can you tell us a bit about your career? Where did you start and what do you do now?
My career at Kendall Kingscott started through the Building Surveying route following a two-year HND Building Studies & RICS accredited degree at Sheffield Hallam University.
I have now been here for six and a half years, originally obtaining an RICS AssocRICS Building Surveying qualification in 2020. I then developed further within the architectural department and achieved my MCIAT qualification in 2022.
Why Kendall Kingscott?
I joined Kendall Kingscott because of their reputation within the industry, both from the quality of work and their record of providing support in achieving professional qualifications. They were my first choice and I feel I made the right one.
How has KK supported you exploring an alternative career route?
KK supported me by asking the most important question, 'What do you enjoy most?'. That simple question that made me think about how I would excel, play to my strengths and critically, be happy.
Through academic development and previous job roles, I had always gravitated towards design-based exercises and architectural projects. The support I have received from my KK colleagues has enabled me to develop in this role.
During structured learning, throughout both qualifications & professional development, I have always had someone happy to spend time with me and explain things I'm not sure on. The amount of knowledge available throughout the office is incredible.
What do you enjoy most about your current role?
The interdisciplinary aspect of KK is exciting and enabled me to work with various teams and colleagues. I enjoy the satisfaction of producing interesting architectural packages and delivering a project successfully, for instance I am currently working on internal refurbishments to hospital wards and progressing in the world of 3D drawings. I enjoy the balance of site visits, office involvement and the flexibility of working arrangements. Most of all, I enjoy the challenge, as no project is ever the same.
What at advice would you share with someone considering trying a new career route?
Find something interesting and pursue it. Always listen to advice of your colleagues and if in doubt, ask. I am glad I made the change because it has helped me to achieve a career that I am proud of.

What keeps you busy outside of work?
I love pretty much all sports, and I regularly go paddleboarding (one of the perks of living on the coast). KK recently did this as a group and plan to do more, so hopefully it's infectious!
Related news