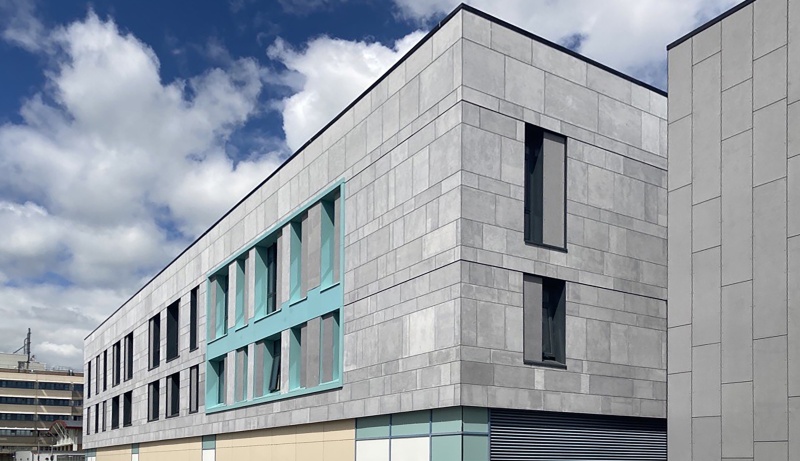 Southampton General Hospital - Oncology and Ophthalmology Expansion
Project details
Client:

University Hospital Southampton NHS Foundation Trust

Location:

Southampton General Hospital

Role:

Architect, Building Surveyor, Quantity Surveyor, Principal Designer, Contract Administrator
In the height of a pandemic, with the pressures of winter looming, we were challenged to design and construct a cancer care unit in nine months.  Our 1 Team solution comprised Lead Consultant Architect, Building Surveyor, Principal Designer, Quantity Surveyor and Contract Adminstrator. With demanding timescales, the agility of our 1 Team ensured the project progressed at pace.
We designed a two-storey extension above the existing in-use oncology LINAC bunkers. The design aimed to create comfortable and spacious surroundings for oncology and haematology patients undergoing long-term treatment.
The first floor provides ward accommodation for 27 inpatients with a mixture of four bed bays, single ensuite bedrooms, and single-bed side rooms with enhanced ventilation for those who are immunosuppressed. These rooms would enable more patients to undergo bone marrow transplants.
We achieved our sustainability targets with a fabric-first approach. By improving thermal performance and air tightness, as well as installing a photovoltaic array for onsite electricity generation, we could meet the standards set by the Trust and Local Planning Authority.
The close collaboration between our team, the Contractor and the Trust delivered an ambitious project that would support people in desperate need of care. A further fit-out followed providing facilities for the Ophthalmology department on the second floor.
Contact our Healthcare Team to discuss your project requirements.